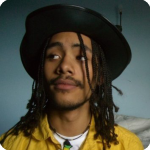 Me…
26 years old: After graduating from a BA (Hons) Design: Illustration degree, Chris started reading for a foundation degree in Computing. Once completing the foundation degree, he went onto study one more year to make it a BSc (Hons) Computing degree. He still illustrates here and there, but his prime focus at present is web design.
The website…
It was realised that the website that was in use was too static and could not be easily updated. Even though it functioned well as a website, showing and describing work, there was no simple way of editing the content other than changing the actual code of the website. Other than finding a better system to showcase work, the sudden drive to change the website was to allow the function of creating blogs for the select computing degree modules. WordPress was chosen as the alternative and the best method of managing content.
Such additions are:

Continued through:

A new site layout
Email newsletter
Art gallery function
Larger layout
New comments function
Integrated share features
i.e (Twitter, Facebook, Google)
The previous website had been running since late 2009 to the end of 2011. It used 'iframes' that meant the content of the website could change without refreshing the whole page. One frame would load up another, and so on, like a concertina. Smart, but not that practical. Google, and other search engines, do not include iframe pages in their search results. Also, the frames have to be manually created and coded when new content is added. So a new website was definitely needed, one with a Content Management System (CMS) at least.
Such additions were:

Continued through:

A new site layout

Info on my code work
More descriptive art gallery
My latest news

Mini art site
A new blog

Email newsletter
Integrated Facebook features

Interactive book
The original site was only a basic art gallery, through which you could only view images. There was also a link to an interactive Flash book that showcased artwork spreads created for a picture book project.
The original site ran from 2007 – 2009.

Google+
About